EARLY LIFE:
The legend of this saint devotees of Srivaishnavism believe that he was the incarnation of Vishnu's disc, Sudharshana. He is believed to have been born at Jagannatha Perumal temple, Tirumazhisai by divine grace.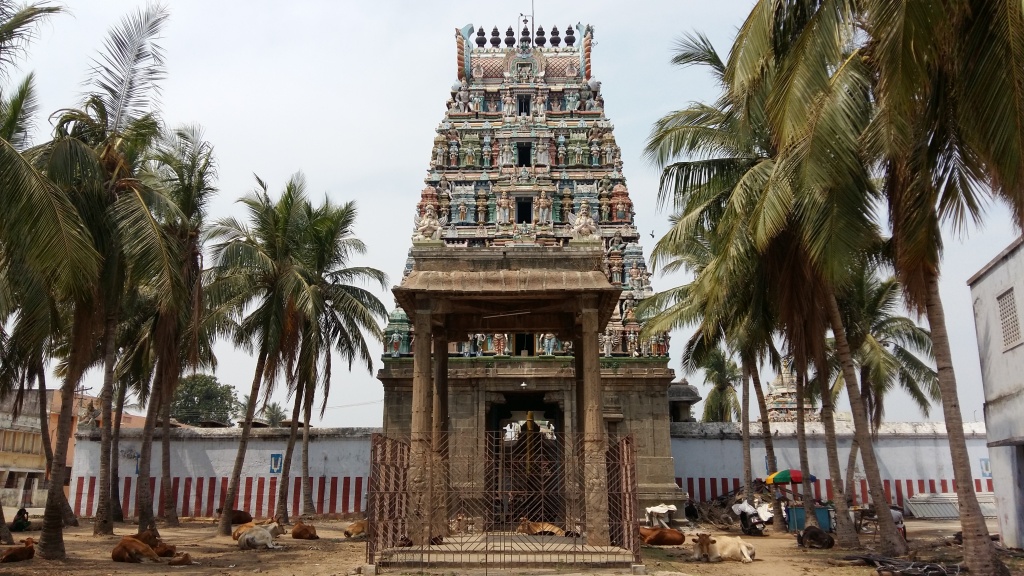 (Aadhi Kesava perumal Temple - Mylapore)

SMALL STORY:
He was born to Bhargava maharishi and his wife Kanakangi after an unusual 12 months stay in the womb. The fetus came out as just a lifeless lump of flesh with no arms and legs. The couple were terribly depressed and with unwillingness left it under a bamboo bush and proceeded with their spiritual journey. Vishnu appeared with his consort and blessed the "flesh" with their kataksham and it turned into an lively human being.

He was later picked up with both the arms affectionately by a tribal named Thiruvalan. A really blessed couple Thiruvalan and Pankajavalli, was overwhelmed by the grace of god for this gift of a baby. The boy grew on to become Thirumazhisai azhwar. The couple also had a son named Kanikannan.

The Azhwar learnt the vedas as he was growing up. He studied other religions and their merits versus demerits before being convinced of the superiority of Lord Narayana.

Then the Azhwar went to a shrine called Tiruvekka and stayed there along with Kanikannan to serve the lord. In the city of KanchIpuram during the reign of Pallava king Parameswaran I, Azhwar was pleased with the services rendered by an old lady at the Thiruvekka temple and restored her to her youthful form so that she could continue to render service to the Lord for a long time. The king was attracted by the beauty of this lady and married her.

However, he wanted his own youth returned to him too and he asked the assistant of the Azhwar (Kanikannan) to convey that desire to his guru. The disciple refused to do such a command. Consequently the king banished Kanikannan out of his country. The Azhwar walked out with him and requested that the Lord of the temple too do likewise. The request is described in the following poem which means, "Kanikannan is leaving, oh Lord. You should not stay here since I am also leaving. Roll up your (serpent) bed and let us go"

Kanikannan Poginran Kamaru Poongachi
Manivanna Neekida Venda -- Tunivudaiya
Sennap Pulavanum Selginren Niyum Unran
Painnagap Pay Suruttik Kol.

The Lord obeyed the dictates of His devotee again. Accordingly the Lord at Thiruvekka is called "Yatoktakari" or "Sonna vannam seyda Perumal" (The Lord who did what He was told to do).

Mangalasasanam:
There are 216 of his paasurams in the 4000 Divya Prabhandham. His first Prabandham named Thiruchchanda Viruththam contains 120 verses. The second Prabandham of Thirumazhisai Alvar is titled Naanmugan Thiruvandhadhi and it contains 96 verses.

He has sung in praise of 20 temples.

Thiru Kapistalam, Thiru Anbil, Thiruevvul, Thiru urakam, Thiruvallikeni, Thirupper Nagar, Thirukkurungudi, Tiruvekkaa, Tiruppatakam, Thirukoshtiyur, Thirukkudandhai, Thiruvenkadam, Tirupparkatal, Srirangam, Azhagar Kovil and Appakkudathaan Perumal Temple.

VARIOUS REFERENCE:
Upadesa Rathinamala (Pasuram 4)
Poygaiar Bhuthatthar Peyar , Pukazh Mazhisai
Ayyan Arulmaran Seralrkkon --Thuyya Bhatta
Nathan Anbar Thall Thuli Narr Paanan Nann Kaliyan
Ithivar Thorratthu Adaivu Aam Inghu

MEANING:
In this pasuram, Manavala Mamunigal explains the order of incarnation of the Azhwars on this earth. The first three azhwars to incarnate in this world were poigai azhwar, bhoodhathazhwar and peyazhwar. Then came the reputed Thirumazhisai azhwar, the illustrious grace of nammazhwar, Kulasekara azhwar, the spotless periyazhwar, thondaradippodi azhwar, the epitome of humility – thiruppan azhwar and Thirumangai Azhwar.
Upadesa Rathinamala (Pasuram 12)
Thaiyil Magam Indru Dharaniyeer Yerram Indhath
Thaiyil Magaththukku Sarrugindren – Thuyyamadhi
Perra Mazhisai Piran Pirandha Nalendru
Narravargal Kondadum Nal

MEANING:
O' the people of the world! Today is Thai (month) Magam (Star). I will tell you the glory associated with this day. It is on this day the people, who are renowned for their devotion to their respective preceptors, celebrate the birth of Thirumazhisai Azhwar, the one with superior intellect.
Upadesa Rathinamala (Pasuram 32)
Mannu Thirumazhisai Madath Thirukkurugur
Minnu Pugazh Villiputtur Medhiniyil – Nanneriyor
Yendha Baththisarar Ezhil Maran Bhattar Piran
Vaindhudiththa Oorgal Vagai

MEANING:
Thirumazhisai azhwar incarnated in the town of Thirumazhisai – a town that is inhabited by bhagavathas known for their steadfast devotion to their acharyas. Nammazhwar incarnated in the town of Thirukkurugur, a town that is full of storied buildings. Periyazhwar incarnated in the town of Srivilliputtur, a town that has glory incomparable to the others.