History of Srivilliputhur:
Before getting into periyazhwar charithram, let us have a glance at the Great Villiputthoor charithram, where periyazhwar hailed from. In "Then Pandya" kingdom, there is a small town called putthoor, where great scholars pundits were residing. Nearby there is a forest where there were hunters living in it.

The chief of these hunters had two sons named villi and kandan. One day these two guys villi and kandan went inside the forest for hunting as usual. They spotted a tiger and it escaped the arrows from their bows. Kandan started chasing vigorously and went deep inside the forest. After some time, the tiger hid behind a tree and pounced on kandan and killed him.

Villi waited for kandan for a long Time and started searching for him with a worried look on his face about his dearest brother. When he spotted the dead body of kandan, his heart almost stooped with grief and cried heavily and fell unconscious on his darling brother's body.

During his unconsciousness, he had a scene in front of his eyes; Sri man Narayanan with His consort Vishnu pathni Mahalakshmi appeared and uttered opening His "pavalachchevvai" thus:"O villi, Do not lament and cry. Do not worry. We will get back your brother's life. And you both go to find out the Big Banyan tree in the midst of this forest where my moorthy has been lying for quite a long time.

You both will also find a cave nearby the tree where there is lots and lots of Golden jewels and coins and treasure available. You can take them as much as you wish. Using that wealth, you both need to build a temple and surrounding town." Then the Lord disappeared. When villi came back to consciousness, he did not know whether what he saw (in his unconscious state) was true at all and was confused.

But suddenly kandan got up alive as if he just woke up from sleep (without any wound even). Villi explained the whole thing to his darling brother and both of them hugged each other for having been blessed by the Lord and having been chosen by the Lord to establish the temple for Sriya: pathih. Then they did exactly as was told and with great enthusiasm built the temple with the co operation of all his people.

The place became an excellent sthalam and the temple looked majestic with Vadabhathrasayee as the moorthy. The place even today is being referred as Villiputthoor (named after the brother Villi).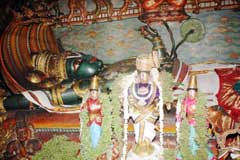 (Vadapathrasayee Temple)

BIRTH STORY:
Great scholars, Bhaktas, pundits migrated from putthoor to this holy place and started residing in this place. One of them was Mukunda Bhattar and he was a Vaishnava gnani and his wife was Padmavalli. On an auspicious day they were blessed with a male child and they named the child as vishnu chittar; means the one who thinks of vishnu always in his mind.

The kid lived up to his name fully and concentrated only on praising the Lord. (Poiginra Gnanamum polla ozhkkamum).

KAINKARYAM:
He chose that kainkaryam to get flowers in the early morning and make an excellent garland out of it to adorn the idol of Sri vadabhatrasayee. He even sold some of his property and bought a small place near his home (and the temple) and converted that into a beautiful Nandavanam (a Garden). The entire Garden looked divinely beautiful and had an exquisite sugandham (smell) due to jasmine, rose, lotus, parijatham, alli, Thulasi, etc., etc..

Every morning, before the Sun rises vishnu chitthar took bath completed his nityakarmanushtanan gal, went to his garden and plucked all kinds of flowers to prepare garlands and garlands of various types for the Lord, while he sang songs in praise of the Lord. He used to take them to the temple and enjoy the scene of Lord wearing all his garlands. He got an immense satisfaction and great amount of blissful happiness in that.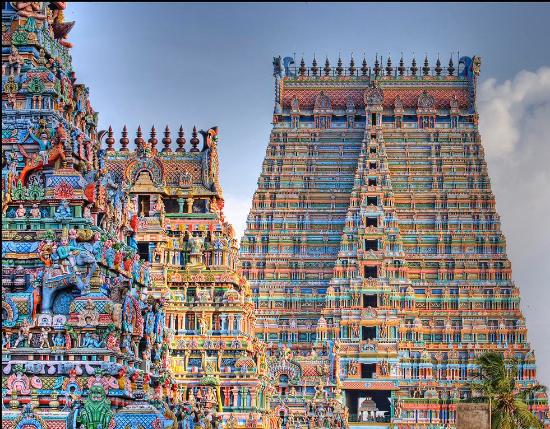 (SriVilliputhur Temple)

FROM VISHNUCHITTAR TO PERIYALVAR:
During those times there was a king by name "vallabhadevan" ruling that area (Then madurai). He was a good king and was ruling excellently; He was a great vishnu bhakta and wished to know the meaning of vedas and the glory of the Supreme truth. He enquired his chief minister on his desire and as to how to go about pursuing his interests.

The minister said "Let us bring vedic scholars and ask them your questions and seek clarifications from them; Whoever furnishes good, satisfactory reply and clarifies you can be greatly rewarded". The king agreed and the announcement was made throughout the kingdom and it was also told that there will be a bag containing Golden coins hanging at the top and with the power and truth of the vedic statement/principle , it shall fall automatically. There were many scholars, pundits, vedic virpannargal, arguments, discussions, seminars, parayanams, etc., But the bag still was hanging!

The Lord now plays! Sriman narayanan, Sri Vadabhatra sayee appeared in vishnuchittha' s dream and said" O bhakta, I am impressed with your poomalai kainkaryam. Tomorrow you go the palace and speak vedic principles and get the reward". The Next day vishnuchittar prayed the Lord and boarded the pallakku (palanquin) and came to the palace with full honours.

The scholars laughed at his greed for they knew his limited (or no) knowledge on vedas. They made sarcastic statements at him loudly. But once our vishnuchittar started his explanation (after a small prayer) the murmurs stopped; The sarcasm disappeared; People sharpened their ears. The king, the ministers the people and the scholars, everybody could follow the simple statements which were full of deep meanings and were coming as if the waves were coming out of the great ocean;

The entire meaning of his statement was clearly understood by one and all and when vishnuchitthar made a concluding statement that Sri Maha Vishnu, the Sriya: pathih, is the only paramporul who is protecting and blessing the whole Universe and all beings and is the only underlying principle of all four vedas, the bag FELL by itself! And fell into the hands of vishnuchitthar.

The king got up immediately with full of tears in his eyes and prostrated at the feet of vishnuchitthar. He appreciated "I am now clear. You have clarified all my doubts. Sriman narayanane paramporul. I have never heard such deep meanings in such simple explanation". The king gave away further more lots of prizes and addressed him "Bhattarpiran".

Vishnuchitthar said "O king, I am dumb. I never spoke. It is HE who spoke here through me.
He is the flutist. I am only a bamboo stick.
I am only a plant. He is the one who bloomed the flower.
I am only a puppet. He is the kartha and a puppetter. Please do not say anything to me.
Please do not prostrate at my feet. Let us all prostrate at HIS feet.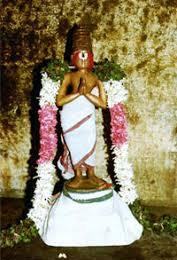 MANGALASASANAM:
The king made vishnuchitthar sit on the Royal Elephant and arranged for a great procession in the streets of his kingdom. Everywhere people thronged to see the blessed soul and everywhere people were shouting "bhattarpiran vazhga! Bhattarpiran vazhga!".

When all these festivities were going on, Lord has also wished to see this great scene and enjoy His bhaktha being admired and appreciated. He along with mahalakshmi appeared on garuda in the sky and the whole lot of crowd, the king the ministers, the jealous scholars everybody saw him and his consort on garuda!

Seeing the Lord Vishnuchitthar was ecstatic and using the bells which the elephant was wearing he made THALAMS and sang

"Pallaandu, pallaandu pallayiratthandu palakodi noorayiram" (Long live for many years, Long live for many years for Hundreds of thousands of years!)

He is giving Asirvadhams to the Lord! For living eternally and forever!. That is why he is called Periya azhwar - The eldest azhwar because he greeted the Lord himself!

After being conferred "Bhattar piran", periyazhwar continued on his malai kainkaryam, while he enjoyed singing pasurams on kannan. He sang as if he became His mother, yasodha. He bathed him, fed Him, dressed Him; played with him; and enjoyed and imagined all thollai inbam which yasodha had undergone. The Child's azhaghu, mischiefs, leelas, were all sung by periyazhwar. All his pasurams are to be read, re-read and enjoyed.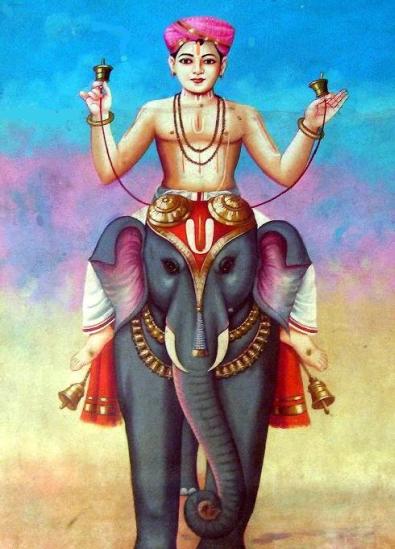 BIRTH OF ANDAL:
One such day (on Adi pooram day) when he was plucking flowers and thulasi leaves in his beautiful nandhavanam, he heard a faint cry of a baby, which appeared as an incarnation of bhoomadevi. He was pleasantly surprised to find a little bundle of joy with beautiful pretty limbs and a divine golden face with great amount of tejas, he immediately picked up the female child with both the arms lovingly and showered her with lots of kisses.

When they hugged the child they felt as if it is Lord bala krishnan himself whom they were holding; They were getting tremendous amount of joy by bringing up this blessed pretty girl, whom they named "kodhai". (Will read more on Andal section).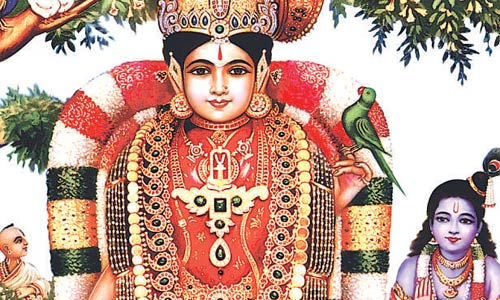 WORKS:
Pattarbiran dedicated the precious ornaments got from the Pandiya king towards Sriman Narayanan and started his routine work of Nandhavana Kainkaryam. He not only dedicated the garland for the perumal but also the Paa maalai (explaining the greatness, the beauty etc) of the perumal.

Thiru Pallandu, Periya Azhwar thirumozhi.

VARIOUS REFERENCE:
Mamunigal explains the glories of Periyalvar in his Upadhesa raththina malai.

Upadesa Rathinamala (Pasuram 4)
Poigayar Boodhathar Peyar Pugazhmazhisai
Ayyan Arulmaran Seralarkon – Thuyyabhatta
Nathan Anbar Thal Thooli Narpanan Narkaliyan
Eedhivar Thorrrath Thadaivamingu
In this pasuram, Manavala Mamunigal explains the order of incarnation of the Azhwars on this earth. The first three azhwars to incarnate in this world were Poigai azhwar, Bhoodhathazhwar and Peyazhwar. Then came the reputed Thirumazhisai azhwar, the illustrious grace of nammazhwar, Kulasekara azhwar, the spotless Periyazhwar, Thondaradippodi azhwar, the epitome of humility – Thiruppan azhwar and Thirumangai Azhwar.
Upadesa Rathinamala (Pasuram 16)
Indraip Perumai Arindhilaiyo Yezhai Nenje
Indraikken Yerramenil Uraikken – Nandripunai
Pallandu Padiya Nam Bhattarpiran Vandhudhiththa
Nallaniyil Sodhi Nal
O' ignorant mind! Don't you know the glory associated with this day? If you ask me what makes this day special, I will tell you. It was on this day (in the month of Aani and the star swathi), periyazhwar, who gave us the prabandham infused with good messages – The Thiruppallandu, incarnated in this world.
Upadesa Rathinamala (Pasuram 17)
Manilaththil Munnam Periyazhwar Vandhudhiththa
Ani Dhanil Sodhi Nal Endral Adharikkum – Nyaniyarkku
Opporuvar Illai Ivvulagu Dhanil Endru Nenje
Eppozhudhum Sindhithiru
O' my mind! Please remind yourself that that those people, who understand the glory associated with the incarnation of periyazhwar once upon a time in this big world, have no equivalent in this world in terms of knowledgeable peers.
Upadesa Rathinamala (Pasuram 18)
Mangalasasanaththil Marrulla Azhwargal
Thangal Arvaththalavu Thanandri – Pongum
Pirivale Villipuththur Bhattarpiran Perran
Periyazhwar Ennum Peyar
Having surpassed the other Azhwars in his display of concern to the Lord's well-being (by singing for His auspiciousness), bhattarpiran, who incarnated in Srivilliputtur, came to be hailed as "periyazhwar".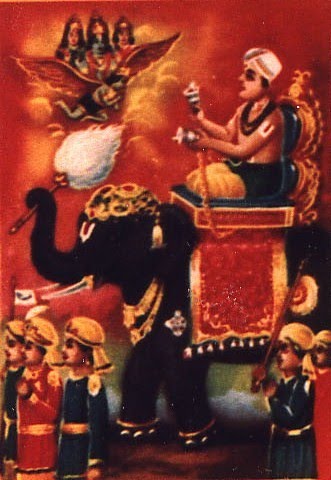 Upadesa Rathinamala (Pasuram 20)
Undo Thiruppallandukku Oppadhor Kalaidhan
Undo Periyazhwarukku Opporuvar – Thandamizhnool
Seidharulum Azhwargal Thammil Avar Seikalaiyil
Paithal Nenje Nee Unarndhup Par
Is there a prabandham that is equivalent to the Thiruppallaandu? Is there an equivalent to periyazhwar in terms of his devotion and scholarship? O' ignorant mind! May you learn and analyse the scholarly works of the peerless periyazhwar, which were offered to us in the glorious tamil language.
Upadesa Rathinamala (Pasuram 21)
Azhwar Thirumagalar Andal Madhurakavi
Vazhvar Ethirasar Amivargal – Vazhvaga
Vandhuthitha Madhangal Nalgal Thammin Vasiyaiyum
Indha Ulagorkku Uraippom Yam
O' the people of the world! I will be telling you the glory associated with the birth months and stars associated with Andal – the daughter of Periyazhwar, Madhurakavi Azhwar and Ramanujar who incarnated in this world for our spiritual upliftment.
Upadesa Rathinamala (Pasuram 23)
Periyazhwar Penpillaiyai Andal Pirandha
Thiruvadip Puraththin Seermai – Oru Nalaik
Undo Maname Unarndhup Par Andaluk
Undagil Oppu Idharkum Undu
O' my heart! Analyze and find out whether there is a day that matches the glory of Aadi month pura nakshathram – the day on which Andal incarnated in this world as the daughter of periyazhwar. Only when one finds another person who matches Andal in compassion, forbearance and beauty, can he find another day that matches the glory of Aadip puram.
Upadesa Rathinamala (Pasuram 32)
Mannu Thirumazhisai Madath Thirukkurugur
Minnu Pugazh Villiputtur Medhiniyil – Nanneriyor
Yendha Baththisarar Ezhil Maran Bhattar Piran
Vaindhudiththa Oorgal Vagai
Thirumazhisai Azhwar incarnated in the town of Thirumazhisai – a town that is inhabited by bhagavathas known for their steadfast devotion to their acharyas. Nammazhwar incarnated in the town of Thirukkurugur, a town that is full of storied buildings. Periyazhwar incarnated in the town of Srivilliputtur, a town that has glory incomparable to the others.
THANIYANS: 1st thaniyan - Composed by Sri Nathamuni:
Guru Mukam Anadhithya Praha Vedhan- Aseshaan
Nara Pathi Pari Kluptham Sulkam Adhathu Kamaha:
Svasuram Amara Vandhyam Ranganathasya Sakshath
Dhvija Kula Thilakam Tham Vishnu Chittham Namaami
The Azhwar- who is the thilakam of Brahminhood; who is respected and worshipped by even Devas; who is the father-in-law of Sri Rangnathan; who wished to succeed getting the prize bag of gold coins, arranged by king Vallabha devan (narapathi: ) in order to establish the Supremacy of Sriman Narayanan as the PARATHVAM in the debate, without any learning formally from Acharyan (teacher) to that Azhwar, I bow down to and prostrate.

Here abhinava desika Sri Uttamur Swamy beautifully lists different interpretations on this anadhithyam- (without learning):

1. Anadhithyam means: without learning. Then, why the word Guru is required. Isn't it superfluous? Swaram, Grammar, niruktham, the meaning of Vaidika padhams are all explained by the Guru and that can be learnt only from Acharyan. Hence, Gurumukham anadhIthya conveys this crystal clear.

2. Gurmukham also can be linked to praha giving a different meaning: praha means: explained or taught. He explained as if he had taught the Vedas as guru for some time (few years perhaps).

3. Gurumukham can also be linked alternatively to the assembly of Vedic scholars, Selva Nambhi (the minister of the king, who is also knowledgeable and who guided the king to get this doubt clarified, thereby Parathvam of Lordship can be established). Means: Having them (as Gurus- thus- Gurumukham) in the front, he explained the Vedic Truths.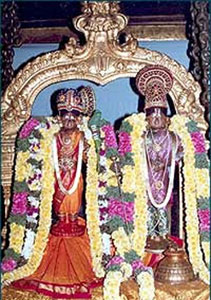 Two dedicatory verses by Paandiya Bhattar
Minnaar Thadamathil Soozh Villiputthoor Enru Orukaal
Sonnaar Kazharkamalam Soodinom Munnaal
Kizhiyaruththaan Enruraiththom Keezhmaiyinir Cherum
Vazhiyaruththom Nenjame! Vandhu.

Oh mind! (nenjamE) - you helped me.. Thus, (with your such helpful nature in co-operating), we are able to adorn the head with the lotus feet of BhagavathAs who have uttered the name Srivilliputtur (which is surrounded by glittering tall ramparts like Gold) even once. When raised doubts in King Vallabhadevan's sabham as to who was the Parathavam, it is PeriyAzhwar who cleared their doubts (that made the bag of coins tear and) he won the prize.

By uttering that GREAT incident (event) alone, and with AzhwAr sambandham thus, we are able to get rid of the past wrong path and destination, that we were heading to (adhogati) (which is further births and deaths!) When Azhwar is there at that Divya Desam, how can there be dharidhram (and hence, gem stone laden Golden ramparts). When there is kizhi Arutthan (the bag tearing..), there will surely by keezhmaiyin serum vazhi arutthom - the path that could have led us to wrong destinations (of devathandhara sambandham, Kshudhra purushaartham - asking something like a kilo of vegetable from a King etc.,)

With Azhwar's Paradevatha Nirnayam, we are able to get rid of that path, be blessed with AzhwAr sambandham and know what we want (eternal service) and who only can Grant and also how.