EARLY LIFE:
According to traditional scriptures, Nammalwar was born a Pillai (Vellalar) family at Thirukurukur (modern day Alwarthirunagiri) in the southernmost region of the Tamil country.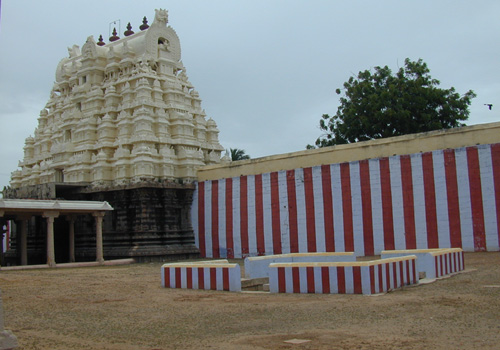 (Sri Aadhinatha Swamy Temple)
Tradition says that he must have been born fully enlightened because as a baby he never cried or suckled and never opened his eyes. The child got up and sat in the lotus position, and began to meditate. It appears he was in this state for as long as sixteen years when a Tamil poet and scholar in named Madhurakavi Alvar who was born in Thirukolur and had travelled to North India on a temple trip. As he was performing his Nitya Anushtanam one day, he saw a bright light shining to the south, and followed it until he reached the tree where the boy was residing. He asked the child a riddle: "If the small is born in a dead's body (or stomach), what will it eat and where will it stay?" meaning, if the subtle soul is embodied in the gross body, what are its actions and thoughts? Nammalwar broke his lifelong silence and responded, "That it will eat, it will rest!" meaning that if the soul identifies with the body, it will be the body but if it serves the divine, it will stay in vaikunta and eat (think) of God. Madhurakavi Alvar realized the divinity of this child.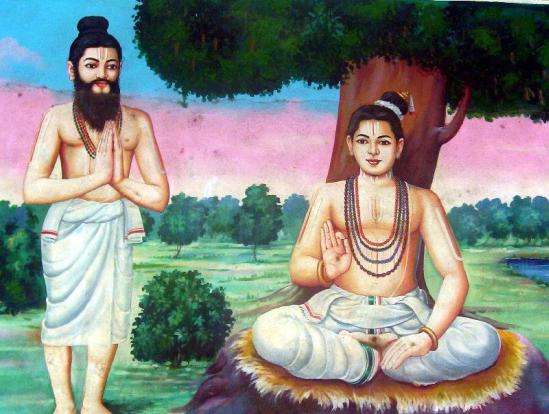 (Nammalvar and Madhurakavi alvar)
Nammalwar was one of the twelve alwar poet-saints who immersed themselves in a love of Vishnu and who had a considerable knowledge of ancient Tamil literature and its variants of traditional stories concerning Vishnu and his associates, as well as the philosophical differences between Buddhism, Hinduism and Jainism.

Disciple:
Madhurakavi Alvar was his first disciple. Swami Madhurakavi Alvar composed 11 pasurams in praise of his Acharya, Swami Nammalwar known as Kanninun Shiruthambu, which are included among the 4000 Nalayira Divya Prabandham.

Work:
He contributed four works to the Divya Prabhandham. These works consisted of 1,296 poems.


Thiruvaymoli (1102 verses)
Thiruviruttam (100 verses)
Thiru Vaasiriam (7 verses)
Periya Thiruvanthadi (87 verses)

VARIOUS REFERENCE:
Upadesa Rathinamala (Pasuram 14)
Yerar vaikasi visakaththin yetraththai
Paror ariya pagargindren – seerarum
Vedam thamizh seidha meyyan ezhil kurugai
Nathan avathariththa nal

MEANING:
O' the people of the world! Let me tell you the glory associated with visakha star in this beautiful vaikasi month. This day marks the incarnation of nammazhwar (who provided to us the essence of the vedas in simple Tamil language) in the southern hamlet of azhwar thirunagari.
Upadesa Rathinamala (Pasuram 15)
Undo vaikasi visakaththukku opporu nal
Undo satakoparkku opporuvar – undo
Thiruvaimozhikku oppu thenkurugaikku undo
Oru par thanil okkum Oor

MEANING:
Is there a day that is equivalent to vaikasi visakham? Is there a person whose scholarship is equivalent to that of nammazhwar? Is there a scholarly work which is comparable to Nammazhwar's thiruvaimozhi? In the whole world, is there a place which is comparable to azhwar thirunagari? The answer is a resounding "No".
Note:

The "Sataari" placed on the heads of all the devotees in Vishnu temples is supposed to be Nammalwar himself.